Farma Sarlis's figs are unique because they have very thin skin, they are very sweet, smooth to the mouth, and are distinguished from their very attractive golden color, that they obtain from the sun, the moment they start maturing on the trees. They are being cultivated for decades with love and respect to our local tradition and our final products are preserved in perfect conditions without any chemical preservatives.
From the start of the production to the packaging of our products, the goal of every single one of us in FARMA SARLI is to stimulate all your senses.
Firstly, the vision, because you see our products, then the feel, as you can touch most of them and feel the softness that characterizes them, then the smell, as our products overflow of freshness and the smell of Greece and in the end, we want all of this to become an explosion of flavors inside your mouth.
The ancient Greeks showed a lot of love for fresh and dried figs, which they consumed as a special treat with a lot of dry nuts. In the texts of the Pythagorean meals dry figs are mentioned as royal "ischades", a term also used from the Byzantine times, referring to the dry figs that were kept inside clay pots.
"Nothing at all is sweeter than figs, not even the honey is sweeter than figs" -Aristophanes-
Biological by-products of the figs of Kimi that we produce in our farm are Fig nougat (a tasteful energy bar), Fig soutzouki (a nice side dish for wine, cheeses, and meat products), fig marmalade without any added sugar (with fig syrup for a delicious dietary breakfast and other wonderful dishes), Choco figs (a perfect dessert with a unique balance between the figs and the dark chocolate) and Figs syrup (wonderful complement for salads meat and other dishes).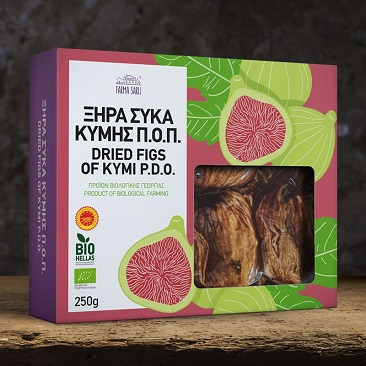 Farma Sarlis figs are unique because they have a very thin skin, are very sweet, smooth to the mouth and are distinguished from their very attractive golden color, that they…
Our Choco-figs are handmade. The result is magnificent sweet, that you can eat without regret for calories, as this sweet can only benefit the organism. We take…
A tasteful desert ( without added preservatives), but not only as it can perfectly accompany cheeses, meat products as well as white or red wine, or any drink of…
Our nougat (no added preservatives) is a delicious energy bar with zero fat and double the fibers that you would need in a daily basis, giving the consumer…
A special delicious figs spread (without preservatives) that does not look like any other, as there is not a trace of sugar but only the natural sweetness provided by the extract of…
The extract of our biological figs in combination with the method used in our farm to extract it, helps us create this amazing result that hold all the good nutrients and…